This Content Is Only For Subscribers
Please subscribe to unlock this content. Enter your email to get access.
Bringing the blockbuster video game franchise to the big screen, McQuoid led a team of Australian and U.S. filmmakers, including director of photography Germain McMicking, production designer Naaman Marshall, editors Dan Lebental and Scott Gray, visual effects supervisor Chris Godfrey, costume designer Cappi Ireland and fight choreographer Chan Griffin. The music is by Benjamin Wallfisch.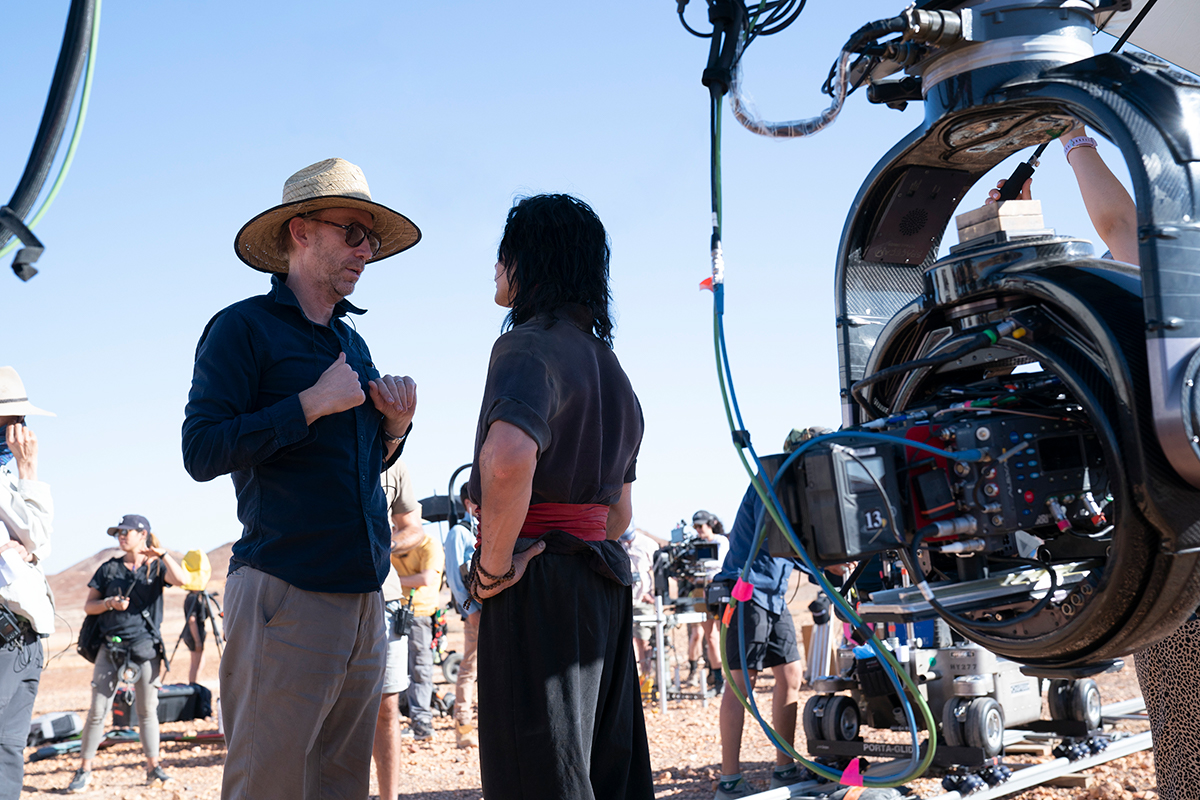 The hero's journey begins when Cole Young learns of his true destiny: to join a group of chosen warriors and prepare for a match far more deadly than the MMA bouts he's used to. In fact, the very fate of Earth is in their hands. The film "Mortal Kombat" includes numerous canon favorites like Scorpion and Sub-Zero, the extensive lore, the iconic costumes and catchphrases, signature moves leading to gory fatalities, and the fully realized realms.
Director/producer Simon McQuoid states, "Our goal in bringing this story to the screen was to respect the material and service the true fans, but also create a thrilling experience for moviegoers who might not know the games. We wanted to give everyone a really fun, unrelenting ride, and let film audiences get to know these incredibly cool characters and the powerful energy of this IP.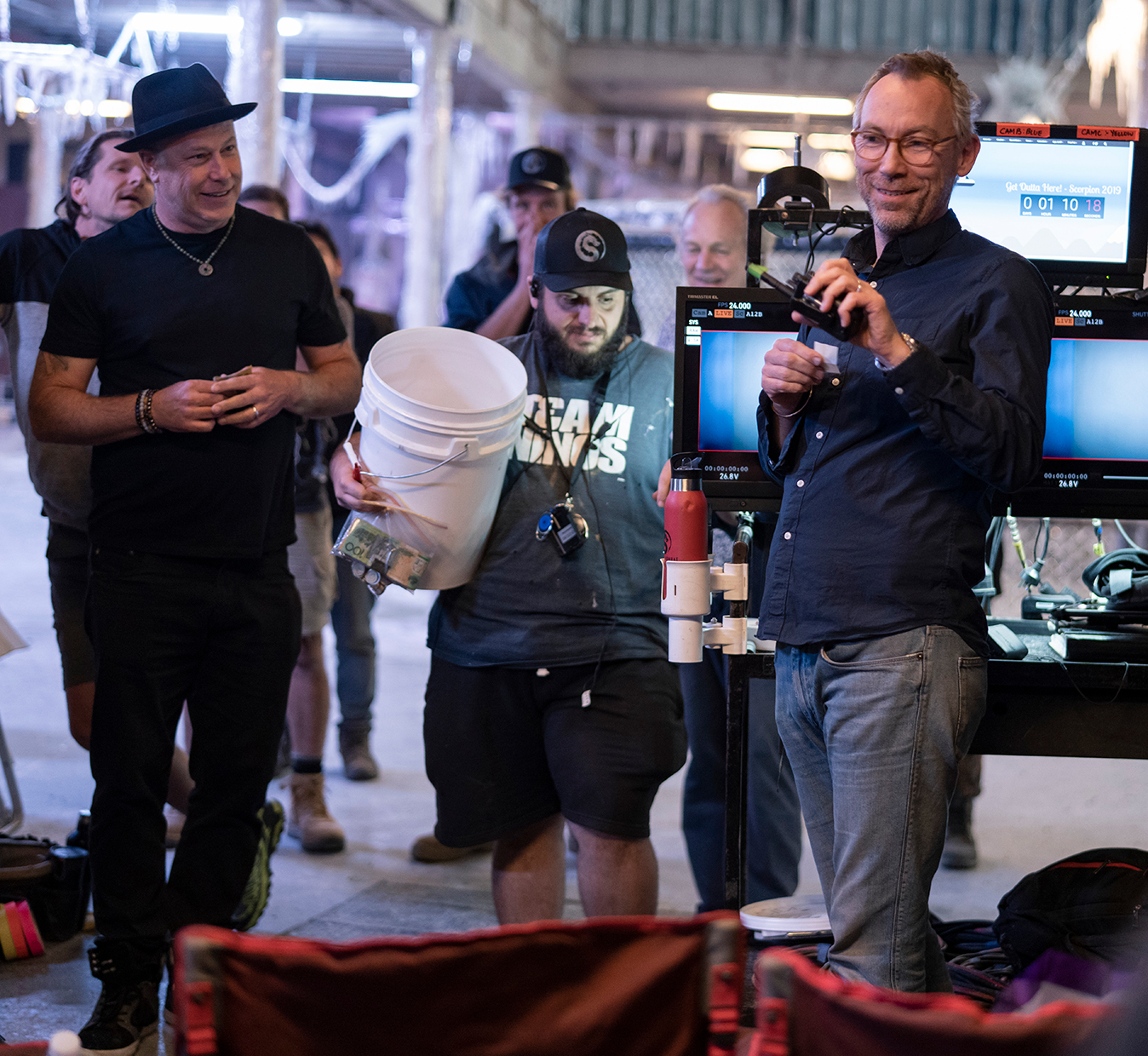 Part of staying true to the property would, of course, require the filmmakers to lean into its unabashed brutality, knowing at its core it's about two worlds at war, carried out in a solely hand-to-hand manner. "It's a key element of Mortal Kombat," McQuoid confirms, "but the great thing about these 3 characters is, once you know them and their motivations, the fighting is as meaningful as it is unapologetic; you pick your favorites and you care about what happens to them."
James Wan, who produced the film with Todd Garner, McQuoid and E. Bennett Walsh, explains, "It's been over 25 years since the first feature film came out, and fans have been pretty vocal asking for another big screen entry. As a fan myself of the games and movies, I, too, wanted to see another theatrical version of this, and felt it was time again to revisit this IP that has been kept relevant in the game world but not as much in the feature world.
"From the get-go," he continues, "Todd Garner, my Atomic Monster team and I were gun-ho about creating an updated version with today's filmmaking technology, whilst being respectful to the fantasy tone, violent action and gore of the game that fans have come to love. We wanted to bring these vivid characters and stories back to the big screen in a modern, exciting way for a whole new generation who may not be as familiar with the films as we were growing up."
Garner says the key to that was "making sure we got the story right. We didn't want to remake the 1995 movie, we didn't want to short-change the fans, but we needed an epic storyline that, even if you have never played the game, you could still become immersed in it."
As a longtime fan who ranks in the top 50 among gamers in the world and top 15 in the U.S. on the Xbox platform, that was a given for Russo, who, on a visit to his mother's home around the time he began crafting the story, found old drawings and stories about the Mortal Kombat game that he made when he was 12 years old.
"Video games were always an outlet for me growing up," he continues. "Mortal Kombat was one of the games I latched onto the most. I would spend countless hours at the arcade after school playing with my friends, and I had all the home console versions. My love for this property was fostered at a very young age. I feel this was always meant to be."
McQuoid adds, "The fans invest a lot of time and money and attention into the games and are invested in the characters. They know if back to front and they love it, and the writers made sure to respect that while also considering a new audience. That's one of the reasons I loved the script—it had heart and soul and humanity underscoring the intense action and adventure. Every character is fighting for what matters to them."
COSTUME DESIGN
Because the characters of Mortal Kombat are so iconic, the filmmakers, especially costume designer Cappi Ireland, knew it was key feature for the film.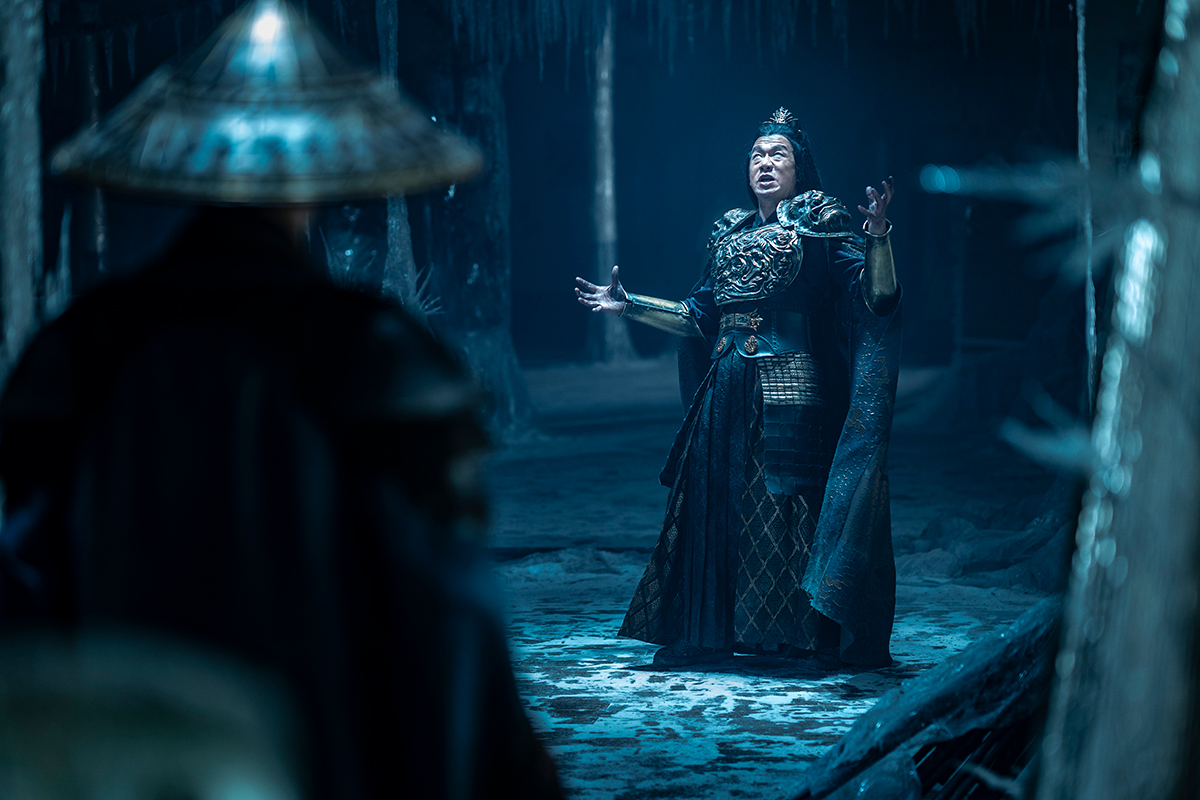 Ireland says of her design aesthetic, "We wanted to take the fantasy element of Mortal Kombat and ground it in a more visceral way with real fabrics, earthy leathers and cottons and metals, nothing too shiny and new. I felt it was important to keep away from the look or feel of superhero movies, so even though it is kind of a surreal, fantastic world, we want the costumes to feel real. I didn't know much about the game to be honest, but I was able to explore all it's different incarnations online," she continues. "I looked at all the different costumes that they had from inception to now, basically through all 11 games. I also read a lot of the backstories and did a lot of research about all the different characters. There is a lot of information to be found—my 12-year-old son was able to offer some guidance, too.
I really wanted to do the right thing for the fans, and I hope that they enjoy what we've done. Would Scorpion really wear that? Would the fans really appreciate that? So often there were times when we had options, and then we asked ourselves that question, and that really guided us to where we ended up."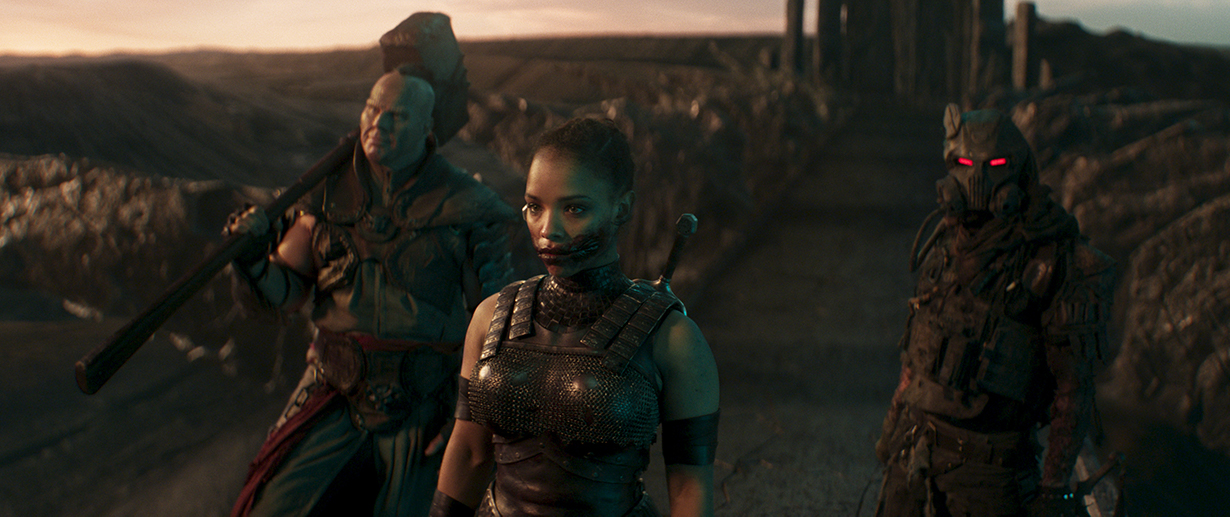 Ireland began with one of the most iconic characters in the entire MK universe. "Sub-Zero was the first costume we worked on and got across the line. That was quite a tricky one because we weren't quite sure where to go with him. We ended up using quite a traditional Chinese pattern, a centuries-old 16 Chinese armor. Once that was decided upon, it was all about the all-important mask and the hood. We decided to create this kind of sinewy muscle feel to them so it's almost like it's his muscles. We made it out of urethane, so it's kind of rubbery and more comfortable for Joe Taslim to wear."
For Lord Raiden's hat, Ireland says, "We decided to up the ante with the hat and not make it out of straw but make it metal-like, but still based on original traditional designs. It was quite a challenge to get a hat that wasn't so heavy. We ended up using fiberglass materials with metallic elements in it, so it polishes up and it looks like a metal hat."
For both Kung Lao and Liu Kang, the designer says, "They are traditional Chinese looks based on Shaolin monks, although Kung Lao's hat is actually a Korean-style hat. So, he's got this Chinese-inspired tabard and a leather belt with jade on it. And he's got armor that's quite pointed on his arms and shoulders. And, of course, Kung Lao's hat is very important. We recreated the classic hat and worked out the best way for Max Huang to move around in the easiest way so that the weight of the hat didn't hold him back."
Similarly, Ireland offers, "We based Shang Tsung's look on ancient Chinese armor and designed and sculpted a chest plate and shoulders of tortured souls, which we then built a mold from. His costume is very regal and has lots of gold and traditional Chinese-style fabrics and is elaborate and detailed.
"We used a similar approach with Scorpion," she continues, "basing it on a traditional Japanese Samurai armor and adding a few twists, like the sharp chain from hi kunai on the shoulder plates."
Of Kano's costume, the designer says, "It's based on a military background, with also a nod to cattlemen and farmers with his leather cross belt. He wears a cut-off shirt, Blundstone boots, which is an iconic Australian boot, and cargo pants—very Aussie, very ocker!
"However, we wanted Jax to be quite modern and urban," she continues, "so we gave him cool designer jeans with a bit of a military vibe and big chunky black boots. And I wanted to give Sonya Blade that feminine silhouette, but she has to be a tough woman as well. Her 'uniform' is a tank top, military pants and gloves, so very much in the same world as Jax and Kano but with her own sort of style, keeping her femininity in there too."
PRODUCTION DESIGN
Filming on "Mortal Kombat" took place in and around Adelaide, the coastal capital of South Australia. Among the many locations the production utilized was Black Hill Quarry, a black granite quarry in the town of Black Hill, 112 kilometers (just under 70 miles) from their base in Adelaide, served as a location in Outworld and the spot for an epic battle.
The design team also created environments for scenes taking place in such places as the woods of ancient Japan, Outworld, Raiden's Temple and a modern-day city akin to Chicago, with sets including a warehouse where Cole competes in MMA fights, a burger joint and an abandoned department store.
Among the many notable props created for the film by property master Lisa Brennan and her team:
Sub-Zero's Kori Blade: more than ten concepts were designed before this was finalized; inspired by icicles, it was made out of a resin with a plastic wrap-type of film inside to give it an icy look under lights, like stalactites.
Reiko's hammer: it was Marshall's idea to go with a sledgehammer; Brennan referenced an old jeweler's hammer and created it out of solid steel, with a wooden handle and wrapped in barbed wire, which is actually leather.
Sonya Blade's collection of knives: handmade locally by Gardner Knives in South Australia's Barossa Valley, they have a distinctive Damascus pattern, reminiscent of flowing water, in a ladder or teardrop pattern.
STUNTS
In order for the roster of fan-favorite characters to deliver extreme fighting, unapologetic brutality and exceptional gore in the high-stakes battle of champions that comprises Mortal Kombat, the filmmakers turned to stunt coordinator Kyle Gardiner and fight choreographer Chan Griffin and their teams to take the battles to the next level. The stunt team started training the cast in an empty soundstage at the Adelaide Studio with cardboard box walls, mapping out the choreography. Australian martial arts legend Nino Pilla was engaged to work with the cast in preparation for the production.
Sisi Stringer trained four-to-five times a week in martial arts and fight work in Brisbane before coming to Adelaide for filming, and Jessica McNamee, who had perhaps the least stunt/fight experience of the main cast, made it clear to Gardiner and his team that she wanted to do as much of the work as possible herself, showing up ready to work at every rehearsal, spending even more time than needed.
What might have been the toughest challenge for Gardiner was to find a double for Joe Taslim who, after 15 years with the Indonesian Judo team, made the task of finding a stuntman who worked at such a high level and could match Taslim's own skills quite difficult.
Lewis Tan, whose father is a veteran fight coordinator, found playing Cole an opportunity to put his own lifelong training into the role. "Cole is a mixed martial arts ex-champion, so the fight style that I based him around is similar to what I learned for kickboxing and Muay Thai tournaments. In MMA, there's judo and jiu-jitsu added into it, with a little bit of wrestling, generally speaking. But Cole's striking style is more Muay Thai, Lethwei—elbows, knees, a little judo intertwined in it. The fight coordinators choreographed a little bit around what I know already, but it's mixed or freestyle."
Mortal Kombat is set for release nationwide in theaters and will be available in the U.S. on April 23 on HBO Max in 4K UHD, HDR10, Dolby Vision, Dolby Atmos on supported devices for 31 days from theatrical release. It will be distributed worldwide by Warner Bros. Pictures. "Mortal Kombat" is rated R for strong bloody violence and language throughout, and some crude references.
Film Trailer